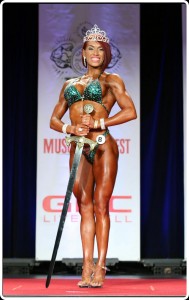 Last year I decided to challenge my mind, body and fitness training and take it to another level.
I've been into health and fitness most of my life. I had the knowledge and I lived the lifestyle, but I knew I would need more. I was introduced to, now my coach Tracy Allen. We had a meeting and right then I knew I wanted her to coach me for my fist figure competition.Tracy guided me through every step of the way, answering my questions and always worked out time for me with both of our busy schedules.
March 3rd I placed in my first NPC figure competition, it was an awesome day.
Later that year I decided to do another show. This time it was a little harder, I thought it would be easier since I've had done it before. Tracy was great encouraging me, and explained to me "That every prep is different depending of where your body is at that time". We worked together, I can honesty say truly commits and she's there for/with you through every thing no matter what it is.
That November I placed 1st in my class and won the Overall unlimited figure. It was so rewarding…all the hard work had paid off.
I could have not done it without Tracy's knowledge and guidance but most off all her Patience and genuine desire to help me succeed.
I'm so thankful we crossed paths, she's help me learn about myself and my body. Can't wait for my next prep. I know that with hard work and dedication and Tracy as my coach I'm closer to reaching my fitness goals.
O. Trumpe