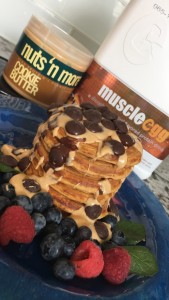 Check out this delicious pancake stack… topped of with Nuts'n More Cookie Butter…. never feeling deprived and always on track!
Add to blender
1/4 Chocolate Caramel Muscle Egg Egg Whites
1 Scoop Peanut Butter Protein Powder (Quest Nutrition)
1/4 Cup Rolled Oats
1/4 Cup Pumpkin Puree
2 TBSP Water
2 TBSP Nuts'N More Cookie Dough Butter
1 TBSP Dark Chocolate Chocolate Chips
Blend all ingredients except, (nut butter and chocolate chips) in blender until smooth.
Place in pancake pan on low heat… flip when sealed.
Top off with 2TBSP Nuts'N More Cookie Dough and 1 TBSP Dark Chocolate Chips
Serve with your favorite fruit!
ENJOY!