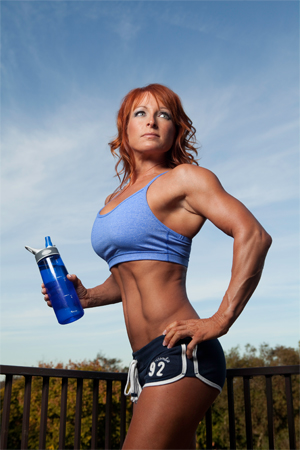 Training and eating clean has become my way of life, but sometimes I feel like I need that extra kick up the booty to get me up in the morning!
The debate on the pros and cons of early morning cardio will probably never end. For me it has always worked to get me in shape though. Still, there are of course those days, when I just don't want to get out of bed.
Sometimes there are days when I don't want to get out of bed.
We all know them, those days, when you just want to pull the duvet back up and ignore the 5am wake up. Regardless, when I am in show prep mode, I choose to do the the fasted cardio and in the end, it's just a matter of being in the right frame of mind for me.
What do you usually do when you feel the motivation taking a dive? Think just a few more minutes in bed? Do you hit the snooze button time and again, to make the snooze turn into another hour only to end up totally missing your window of opportunity?
If your schedule is anything like mine, being a busy mom with 2 young boys, juggling it around school and activities, time is precious, nothing you want to waste lying around in bed out of sheer laziness.
We all experience these types of blocks at one time or another,, but it's not like you would not be able to do something about it. Unfortunately, most tricks only work so long and in the past couple of years, I have tried them all. Still, 'm always open to new ideas and tricks to keep it fresh. After all, I have found nothing to be as effective as early morning cardio to get me shape, when I am prepping for a show and in the end, i.e. when you eventually gotout of bed, it's not so bad at all!
You do I feel that sense of accomplishment…
…by getting your cardio in early. And due to it's powerful effects on your physique, you see changes happen much sooner, stay motivated and, not to mention, you do have much more time to spend on other things in your life.
5 Tips to Make Early Morning Cardio Work for You
So, even if it may take a couple of tricks to get yourself going and make sure you hit your own cardio goals for the day early, it is well worth it and among the following list of my personal favorites everyone of you should be able to identify something that works for her / him:
If you're still wired at bedtime, try cutting out the caffeine after 2pm and give yourself time for a 20 minute read before bed with herbal tea instead of sitting at the computer on Facebook! There's nothing like a little late night read to make the eyelids droopy… just try getting into bed before it happens and don't end up on the sofa at 2am.
Set a date to meet a gym buddy for a session at the gym or meet outside for an early morning run, maybe ending with treat at the local coffee shop!
Place your alarm clock, whether it's your phone or a Sony Sound Blaster, on the other side of the room so there's no excuse but to get out of that nice warm bed and switch it off. On days when I know I'm going to need that extra push, I have a personalized alarm.."this is your mother calling" enough to get me up first time 😉
Head to bed an hour earlier for an extra few ZZZs (the extra sleep will also help you to lean out!), than usual so you can get enough rest feeling charged for your early cardio. For me, 7-8 hours is what's needed for most, usually still with a couple of hits on the "snooze", but eventually I am up in my garage doing my cardio in PJ's and running shoes (not a picture illegible to be posted ;-), while the kids are still sleeping, then.
Set the coffee to brew 15 minutes before your wakeup. For me that's the last thing I will do before going to bed, so that I will wake up with the lovely smell of fresh coffee in my nostrils!
You'll see once you tricked yourself out of bed, the actual cardio training will feel like a breeze and if you still need some support, pick a couple of songs from my TOP5 for July 2012.