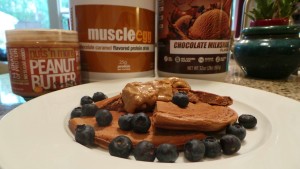 It's tradition in the UK to have Pancakes on Shrove Tuesday… so I made a simple healthier version….
1/4 Cup Chocolate Caramel Muscle Egg Egg Whites
1 Scoop Quest Nutrition Protein Powder
2 TBSP Coconut Flour
2 TBSP Water
1 TBSP Nuts'n More Pumpkin Spice Peanut Butter
Blend everything except the peanut butter in a blender until smooth.
Pour into a small pancake pan and cook on low heat for approx 2 mins on each side.
Top Off with the 1 TBSP Nuts'n More Butter and serve with your favorite fruit….. Enjoy!