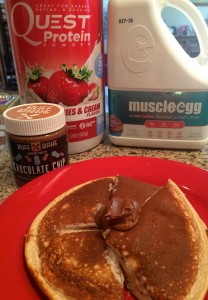 Ingredients:
1/4 Cup Cake Batter Muscle Egg Egg Whites
1 Scoop Strawberry Quest Nutrition Protein Powder
3 TBSP Unsweetened Shredded Coconut
1 TBSP Coconut Flour
1 Small Peeled and chopped zucchini
2 TBSP Water
Blend All until smooth.
Pour into small pancake pan and bake on each side for about 2 minutes on low.
Top off with 1 TBSP of your favorite Nut Butter, I used Buff Bake Chocolate Chip … Delicious.
Enjoy!